Alpacas are Great!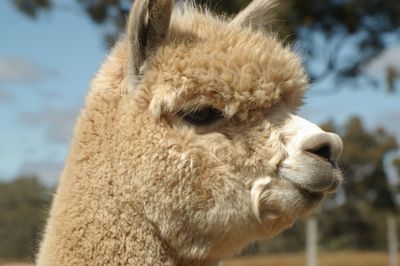 Welcome to Sherwin View Alpacas. We hope you find our website informative and useful.
Our experience with farming alpacas began in 2004 when we purchased two wethers, Nugget and Lord Lamington. Soon after we purchased two black female alpacas, Ebony and Lucy Lu. At this time we were living at Kangaroo Ground, near Hustbridge in Victoria. We decided to specialise in black alpacas.
In 2006, Ian found a property for sale at Eppalock, near Bendigo in north central Victoria. After viewing it, we decided to purchase it as it had many features which would assist us with the farming and management of our alpacas.
In early December 2009, we had the opportunity to purchase an entire herd, alpaca float and various husbandry items from a friend. This changed our plans to specialise in black alpacas as we now have animal colours including white, fawn, brown, grey and black.
Our aim is to breed animals with dense, crimpy and lustrous fleece in a range of colours. The fine micron fleeces are cleaned and carded ready to be used for spinning, dyeing and felting. We also produce a range of bedding products, including doonas, underlays and sleeping bags in a variety of sizes, which are for sale. We are hoping that this year, some of the fine fleeces can be processed into yarn ready for knitting or weaving.
In addition, we produce some animals for sale for breeding or for use as sheep guards.